Rotary Sealing Set 1R6
The 1R6 rotary seal sets are mainly used for two-way sealing of rotary transmission leadthroughs in rotating assemblies, pivot drives, hose reels and in hydraulic systems for machine tools.
Lubrication is optimised by the special geometry of the sliding surfaces at the inside diameter of the glide rings.
The 1R6 rotary seal sets can be used even at maximum permissible pressure and in the case of pressure peaks without the need for additional anti-extrusion rings. They can fundamentally also be used as end seals. However, for this application we recommend our profile 1H0.
Application Range
Pressure: ≤ 500 bar
Temperature: -35 °C / +100 °C
Sliding Speed: ≤ 0,5 m/s
P x v Value: ≤ 40 (L = 4,1 - 4,2), ≤ 70 (L = 6,0 - 6,3)
Standard Material: NBR/thermoplastic
Other materials are available for very high or very low operating temperatures. For detailled information, please look at the specific PDF catalogue or contact our application engineers.
Load product catalog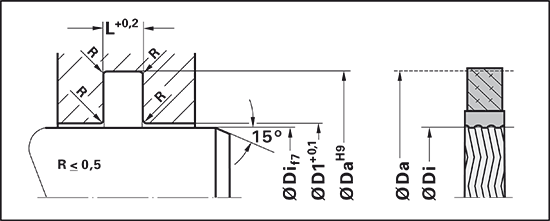 Are you missing materials or dimensions?
Feel free to contact us!
Our sealing experts will be happy to advise you!
Filter
| | d [mm] | D [mm] | L [mm] |
| --- | --- | --- | --- |
| Min: | | | |
| Max: | | | |
| | Material selection |
| --- | --- |
| Material: | |
| Material No. | |
| Profile | d [mm] | D [mm] | L [mm] | Material | Mat. No. | V | Quantity |
| --- | --- | --- | --- | --- | --- | --- | --- |