V-ring VA8
V-ring, used on back-up rolls of hot and cold rolling mills. Furthermore, they have a stiffening metal ring inside, enabling an assembly in open housing. The standard production is a Nitril elastomer NBR added with PTFE, but for particular working conditions, V-rings type VA8 can also be produced in HNBR hydrogenated nitrile elastomer. Other Combinations are available on request. We recommend that before the assembly of front sealing rings such as type VA8, axial compression should be care-fully checked, in order to reduce friction and the wear of sealing lips.
Versions:
VA8-A (standard)
VA8-C (with friction optimised sealing lip of PTFE)
Application Range
Temperature:
-30 °C / +100 °C (+120)* (NBR)
-40 °C / +150 °C (+175)* (HNBR)
* temporarily

Other materials are available for very high or very low operating temperatures. For detailled information, please look at the specific PDF catalogue or contact our application engineers.
Load product catalog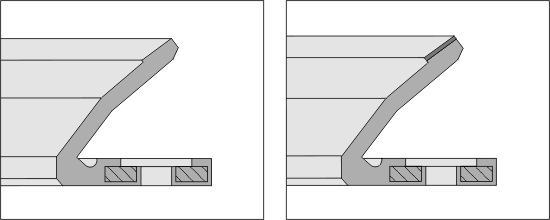 Are you missing materials or dimensions?
Feel free to contact us!
Our sealing experts will be happy to advise you!